Keep Your New Product Plans On Track

...by letting Athena take complete responsibility for all hardware and software product development, testing, prototyping and production of custom electronics modules to your specifications.


Since 1965, Athena Controls, Inc. has been designing custom controller solutions for a variety of applications in a wide range of industries. In recent years, requirements to be both visually and functionally distinctive from the competition have driven Athena to make large investments in engineering and production to better serve this market segment. It is Athena's goal to provide value-driven temperature measurement and control solutions that are individually tailored to satisfy the needs of our customers, and to permit them to best capitalize on business opportunities. We are committed to outperform our competition by supplying innovative, quality products, supported by superior service and delivery. Through the application of our Quality Management System, we provide ongoing training of our employees and continual improvement of our products and processes.

We offer a performance guarantee on our products, with ongoing technical support available to you and your customers. Our proposal includes a Systems Requirement Specification (SRS) document with a fixed-price quotation for initial engineering through production.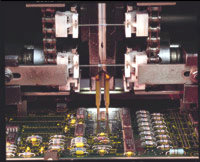 Specialists in OEM embedded control systems for manufacturing scientific, medical, food, and plastics processing applications


Ongoing, comprehensive support, including full documentation and end-user warranty/repair services


Proven project management procedures, including scheduling, tracking, and reporting


Over 30 years of proven experience


Manufacturing to all major industry standards


All customer-funded designs remain the property of our customers, with non-disclosure and confidentiality assured




For a summary of our capabilities and services, click here.


For a free confidential discussion of your custom engineering requirements, please click here to find out how to contact your Athena Controls representative.